Unless you will be traveling to Ocracoke by private boat or plane, you (and your vehicle) will arrive on the island by ferry.
The North Carolina Department of Transportation provides year-round ferry service to Ocracoke Island from 3 ports of departure — Hatteras Island (North),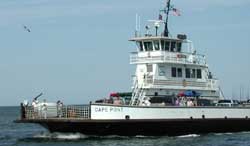 Swan Quarter (Northwest), and Cedar Island (Southwest).
Hatteras: 40 min., free
Swan Quarter: 2 3/4 hr, fare, reservation
Cedar Island: 2 1/4 hr. fare, reservation
Departure times, fares, reservations: www.ncdot.org/ferry
Reservations are required when traveling between Ocracoke and either Cedar Island or Swan Quarter. Reservations may be made online at the DOT website (see link above) or by phoning 1-877-DOT-4YOU. It is an unpleasant experience to arrive at the dock and find the ferry fully booked.
The Hatteras ferry is usually boarded on a first-come, first-served basis for those without local passes. We recommend that you arrive at least 30 minutes prior to departure.
Ocracoke Island Driving Directions to the Cottages
At Jimmy's Seafood restaurant along Highway 12, turn onto Middle Road. Travel to the Ocracoke Child Care Center, proceed around the corner and turn right at the stop sign. Continue to the road's end at Trent Drive and turn left. The cottages face Trent Drive on your immediate left.